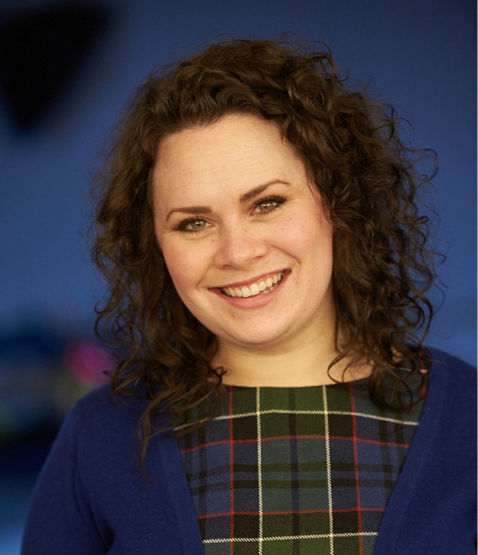 Fashion Designer/Veronica MacIsaac Apparel
I am a fashion designer that specializes in heritage fabrics and patterns – specifically tartan and celtic artwork.  I live in Halifax, Nova Scotia, and I love being so close to the ocean.  Helps with the creativity!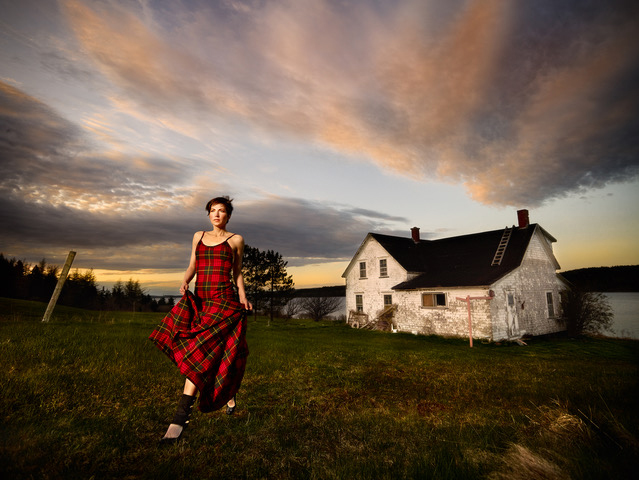 How did you know you wanted to be a fashion designer?
I've always been interested in fashion, my entire life.  But the main focus for my business isn't the fashion side of things necessarily.  It's the furthering of my heritage.  I want more people to understand their background, and get excited about being able to wear a piece of their heritage.
You have had your work featured around the world from British Vogue to The Scottish Banner, what would you say makes your tartan fashions so niche?
I think it's two-fold.  Other designers who work in tartan typically only offer their styles in a handful of tartans (or sometimes just one).  And my style tends to be a bit more contemporary.  A bit more modern.  I've yet to come across a single other designer that is doing what I'm doing.  Creating an entirely new collection every year, and offering it in any readily available tartan.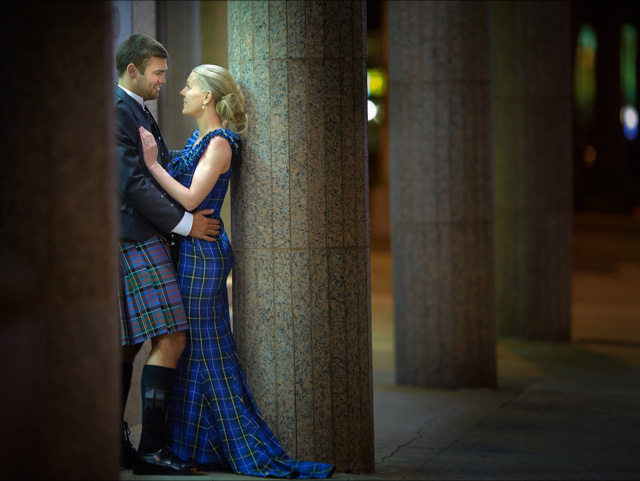 Your family specializes in celtic culture, tell us about your parents and your brother and their work. 
I come from a long line of pipers, dating back to my great-grandfather – Captain Black Jack MacDonald.  He was the Captain of the Cape Breton Highlanders, and he piped the troops onto the battlefield in World War I.  My uncles are pipers.  My cousins are pipers.  And because of that, I started taking highland dancing when I was 5.  My brother started on the pipes at 10.  By that time, I'd outgrown the hand-me-down kiltie from my older cousins.  So my mother decided to start making them herself.  It's grown into an international business (MacIsaac Kiltmakers – www.mackiltscom) that she and my father run together in beautiful Cape Breton Island, Nova Scotia.  My brother (Matt MacIsaac – https://www.mattmacisaacmusic.com) became one of the best pipers in the world, and now makes his living as a professional piper touring internationally.  All 4 members of my family make their living in the Celtic Arts.  A pretty rare thing, indeed.
Most women have never had a bespoke dress made for them. Why is a dress designed just for you so much more special than something off the rack? 
I myself have always had a shape that doesn't quite fit 'off the rack'.  My bottom half is much larger than my top half.  I'm also quite short.  Buying off the rack for me means inevitably having to alter whatever it is I buy.  I know a large number of women who have the same issue.  Buying a bespoke dress means having it fit perfectly as soon as you put it on.  It's an entirely different buying experience.
Best thing about being self-employed?
I like being able to set my own schedule.  If I need to take a morning off for an appointment, I can pick up the slack that evening.  I like that I can make the decisions that I feel are right.  I'm naturally a spontaneous person, so while I work twice as many hours as most people do, I like that I can pick which hours those are, and what I do during those hours.
Worst thing about being self-employed?
I think from my perspective – it's not so much being self employed that's tough as having no employees.  No one to pick up the slack, or cover you on 'sick days'.  All of the blame is on me if anything goes wrong.  Being a one man band is tough!
Favourite city in the world? 
Tough question!  But probably Glasgow, Scotland.
Teetotaler or something stronger? 
Depending on the occasion – a full bodied red, an ice cold cider, or a couple fingers of whisky have been known to pass my lips 😉
Most recent indulgence?
I'm not really one to spend a lot of money on myself.  I just bought a bottle of wine?  Does that count?
Walk, bike or drive?
Definitely walk – I walk everywhere.
Who is the one person in the world you would like to sit beside on a long flight and what would you ask her or him?
If it's an 'alive or dead' thing, then I'd like to sit next to Christian Dior, and talk to him about his 'New Look' collection (1947).  He single handedly changed how people look at fashion and clothing post-war.  I'd be curious to know what it was like in those few years leading up to the war ending, and his process in coming up with that amazing collection.
What would you tell women who are considering becoming entrepreneurs? 
Number one most important – develop a hard shell.  Thick skin.  Lots of people will doubt your abilities, purely based on the fact that you are a woman.  I'm a Vogue published fashion designer, and an older gentleman once asked me "How is your little sewing business going?".  It can be frustrating.  Which is why number two is also important – surround yourself with other female entrepreneurs.  Ones that respect and appreciate you and what you do.  There is power in numbers.
Favourite quote? 
"You can be the juiciest peach in the world, but you'll always find someone that doesn't like peaches".  I feel it describes all aspects of life, really!  Even in business.  Not everyone is going to like you, and not everyone is going to like you're offering.  It's important to focus on those that do.
Last book you read?
"Surviving the Nazis, Exile, and Siberia" – A true story about a Viennese woman who escaped the Holocaust and went on to start a knitwear company in Northern Ireland, which still operates to this day.
Favourite cause, group or activist?
Bryony House is a shelter for women and children in Halifax that offer beds, counsellors, transitional support and advocacy in order to break the cycle of abuse.  It's hard to know what that's like until you're in that situation, and it's a scary place to be.  It's important to have those sorts of services in place.
****Links to your
Web site  www.veronicamacisaac.com
Instagram  www.instagram.com/fashiontart
Favourite cause http://www.bryonyhouse.ca/