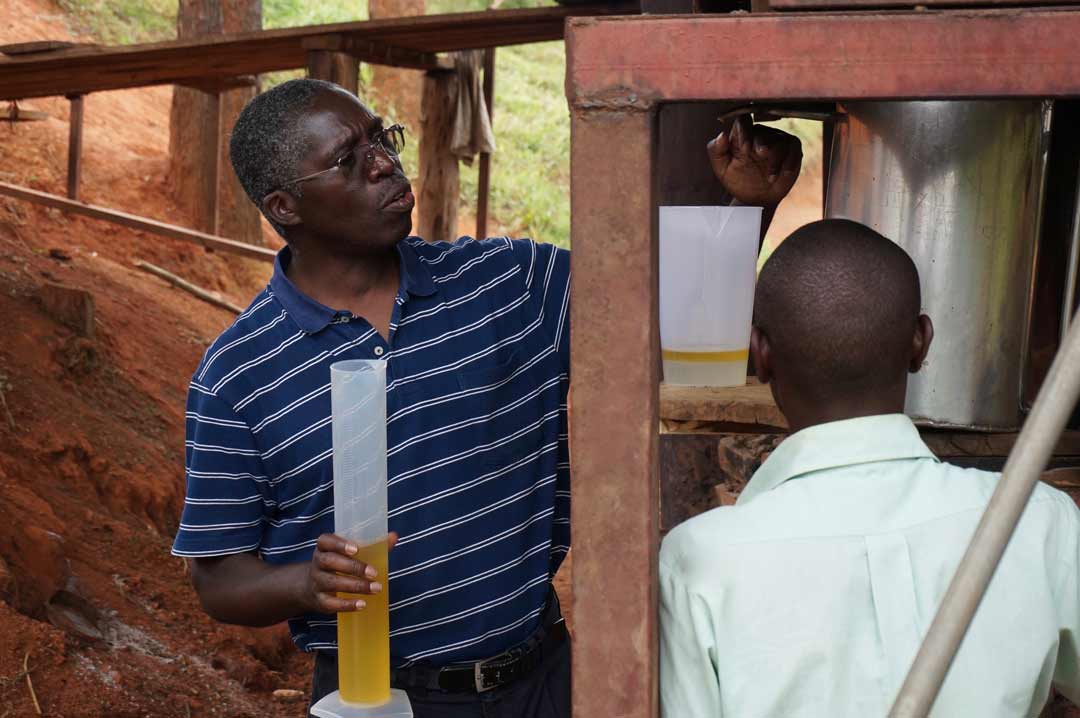 How did you come to create (the cooperative) your social enterprise Ikirezi?
In 2002, I was very fortunate to be part of a team of consultants who carried out an assessment of the potential of Rwanda in the natural plant product sector. We did a product and market studies on the potential of essential oils, herbal teas, spices and medicinal plants in Rwanda. The assessments opened my eyes to the huge untapped potential the country has in natural plant products especially essential oils. I then decided to find a way of implementing the findings of those assessments starting by a pilot project first and creating Ikirezi building on the results of the pilot phase. At the heart of Ikirezi; there are widows; orphans and very poor people who need an enabling environment to heal, rebuild their lives and break free from the vicious cycle of poverty. Essential oil crops especially geranium and patchouli are very labour intensive and thus provide well paid farming jobs to many poor farmers in our production sites.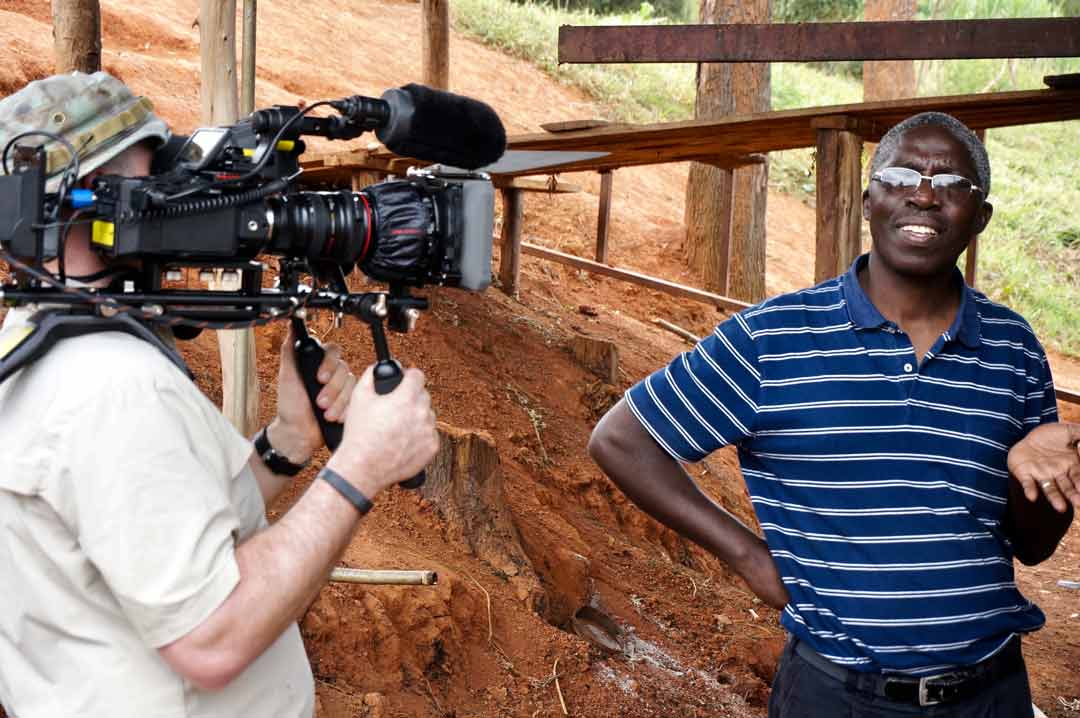 Tell us about the essential oils you produce at Ikirezi and why they are so precious.
Currently we produce rose geranium, patchouli, lemongrass, eucalyptus, rosemary and tagetes oils. Apart from eucalyptus and tagetes that are not cultivated; all our oils are certified organic with both EU & NOP certificates as we also very much care about our environment. Essential oils are high value, non-perishable, export products that bring very high returns from our land, one of the most scarce Rwandan natural resource.
You and your wife Elsie have a beautiful story out of a tragic time. Tell us about how you and Elsie survived the Genocide and some of the challenges during that time for you both.
Our survival was simply a miracle! Recently married with our 4 month old first born son and being from the so called "antagonistic ethnic groups"; we were not only targets for killing but also they were expecting me to kill my wife as a proof that I belonged to their "ethnic group" and my wife was one of their enemies!
As I said our escape was a miracle as we lived in hiding (specifically my wife) for about 2 months until we got an opportunity to get out of the country surviving many attempts to kill us along the escape road that took us over 24 hours from the Central/Southern part of Rwanda to the southwest border with the Democratic Republic of Congo (formerly Zaïre)!
You and Elsie work tirelessly to rebuild and support HIV widows and adult orphans from the genocide. Tell us a bit more about the village you and Elsie support that empowers women.
In 2003, we started to work with widows and adult orphans growing geranium for essential oil extraction in hope that they would earn enough money to meet their own needs including building their own homes . But it didn't take long for us to discover that some of them were living like homeless or in very poor housing as their homes were destroyed during the genocide. In 2006; we partnered with an Australian NGO and we built a beautiful village with 30 homes for the neediest of the widows and orphans and we named it "Village of Hope", a safe loving environment for healing and rebuilding broken lives. Today; 12 years later; it's a vibrant community of smiling; healthy women and their children many of whom are now university graduates.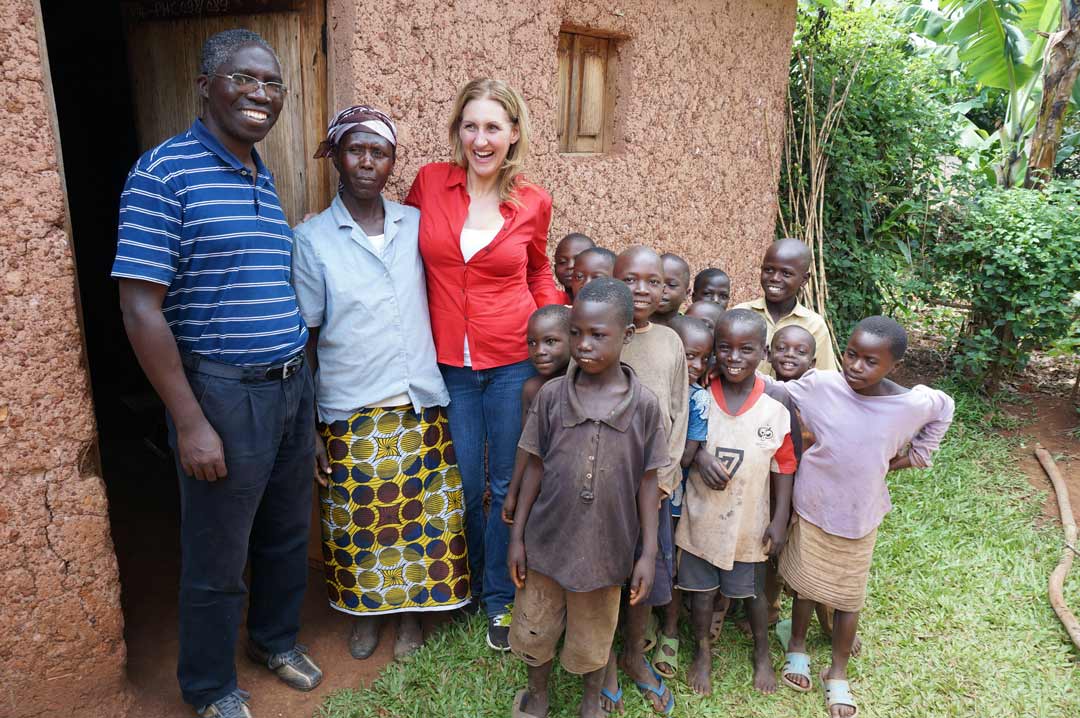 Essential oils are lucrative and your farmers earn three times the income over the next crop of coffee. What can we do as a global village to further support you and your cooperative Ikirezi?
We need buyers who value not only the high quality products we put on the market but also who stand with us to appreciate the hard work farmers put in growing the crops and value the social dimension of our business that always seeks to pay the best wages to our partnering women/poor people and/or pay best prices to our raw material suppliers so that they can regain their lost dignity and value and humanity.
Best thing about your job?
The best thing about my job is to witness the joy, the pride, dignity and change that takes place into the lives of widows/adult orphans/poor people after earning money from working with Ikirezi 2-3 years and they have built for themselves houses, bought a new piece of land; pay their health insurance themselves and take their children to school and change status from "needy" people in their community to respected, capable, self-sustaining, hopeful community members who are contributing to the overall development of their villages and their country.
Worst thing about your job?
The worst thing is not to be able to pay my farmers on time.
What do you want the world to know about Rwanda?
Rwanda is a country with a people determined to live together as one nation and not to be defined by their tragic past but committed to rebuild a nation where everyone is valued, accepted and lives a dignified life.
Favourite city in the world?
Vancouver
Most recent indulgence?
Fruits
Walk, bike or drive?
Walk
Who is the one person in the world you would like to sit beside on a long flight and what would you ask her or him?
Obama- How did your African American heritage shape you to become one of the greatest presidents USA has ever had?
What would you tell men and women who are considering working as social entrepreneurs or in development in another nation?
Don't give up!
Favourite quote?
"Uri Ikirezi cy' Imana" ( You are God's Precious Pearl)
Last book you read?
Homo Deus: A brief History of Tomorrow by Yuval Noah Harari
Favourite cause, group or activist?
I fight for the poor
Website: https://www.ikirezi.com